Animation + Design
Creative visual solutions for your challenges.
---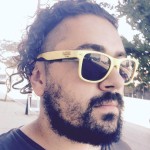 About Me:
As a creative professional, I bring a mix of traditional and digital design skills to increase your audience reach through content. I have 8+ years of experience designing video and graphics for small to mid-level businesses in Metro Chicago. Email me to discuss freelance or full-time opportunities. 
Recent Work
Social Media for Donuts Inc.
Short video for playback on Instagram and Facebook to engage the client's social following. They wanted a game of fortunes for the new year, featuring the client's selection of commercially available domain names. I started storyboarding in Adobe Photoshop and used it to draw all the assets. Animation and typography were done with Adobe After Effects.